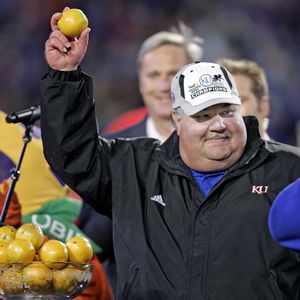 I know these are all late, and all deserved their each article, but in order to catch up on a missed three days, I'm going to combine the following four stories into one article.
MARK MANGINO
Remember that 2007 season when Kansas made that run? When we were all like, "man isn't Kansas supposed to be a basketball school?" That was thanks in large part to Mark Mangino.
Mangino understood what it took to build a winner in the NCAA, and eventually built that in Kansas. There's no denying he was good at what he did. I'll give him all the credit in the world as a football coach.
At the same time, Mangino was totally out of line for the things he said to his players. Telling one player he's going to end up an "alcoholic" like that players "father," and telling another player that he can go back to Oakland and got "shot by his homies" like that player's brother is totally out of line. Let's not forget that these college football coaches are hired to be educators.
Mangino worked for an institution where he was hired to educate. Kansas did the right thing. No amount of wins could cancel out the atrocities that this man was bringing to the locker.
Hopefully for Mangino this serves as a wake up call. Division 1-AA FCS should be his next stop; and it will equate to a great opportunity to rebuild his reputation on work his way back to the FBS.
BOBBY BOWDEN
Wow. You'd think that athletic programs like Florida State would have high paid public relations people working for them. Coach Bowden came out in the beginning of the week and said he wanted to remain the head coach at Florida State and was then let go.
Ouch.
By the time I was old enough to know who Bobby Bowden was he was already a legend in the sport, and that was over 15 years ago. Sure, he's old, but the man has done so much for the sport, the NCAA, and Florida State that he deserved to choose when it's time to go. Not the stinking school.
What a sad ending for (arguably) the greatest coach in college football in the past 40 years. You can't blame Florida States recent string of mediocrity on Bowden, the Florida schools have always taken turns rotating who the states powerhouse is. First it's the Gators, then it's the Hurricanes, and then it's the Seminoles.
Question is, can the Seminoles remain a legitimate BCS contender without Bowden? Not anytime soon.


RUNNING UP THE SCORE?


A lot of people have been talking about Pete Carroll's decision to "run up the score" on UCLA after they called a time out.
USC apologists cite that UCLA called a time out and had it coming (heck it was a rivalry game) while UCLA apologists have called the move bush league.
Personally I can care less whether it was USC vs UCLA or Auburn vs Eastern Michigan, all I care about is the integrity of the sport.
It's one thing if USC is trying to gain BCS points, but they're BCS hopes ended about 5 weeks ago. It's one thing if you were still moving the ball before UCLA's timeout, but you had just taken a knee, so that rules that out. It's one thing if you just want to go home early and end the game, but throwing a touchdown makes the game even longer!
What Carroll did was wrong. I'm not saying losers should be rewarded, I'm just saying coaches need to show one another, and especially the kids playing the game some respect.
Dick Vermeil put it best when he explained the Carroll coached some pretty bad NFL teams (was it Carroll's fault they were that bad? Probably yes, considering under Parcells/Belichick the Jets/Patriots got a lot better) and wouldn't have appreciated it that much if say the Dolphins, Broncos, or Jaguars did that to his teams.


CHARLIE WEIS


It was only a matter of time before Weis was fired. Do I agree Weis should have been fired? Yes. But this has to be it for Notre Dame.
Weis was able to recruit well at Notre Dame, his successor will likely benefit from the same luxury, therefore, Notre Dame needs to make their next coach hiring a long term decision. The team needs to continue graduating players and maintaining high academic standards first; with program continuity BCS bids will come.
As for Weis, he'll be fine. I'm sure he'll end up back in the NFL and coordinate somewhere. Maybe Miami with Bill Parcells, maybe New England with Bill Belichick, maybe Kansas City with Scott Pioli, or maybe even Cleveland with Eric Mangini. Heck, Weis may even be a dark horse for a pro head coaching job. Think about it, the NFL defensive coordinators actually do their job, and Weis would never have to worry about a 3-4, 4-3, 5-2, Nickel, Dime or whatever while getting all the credit for a win.
I think this separation of Notre Dame and Charlie Weis will be for the better for both parties. It's what they have to do. But sometimes after a divorce, even when they're for the party, both parties still end up in shambles.