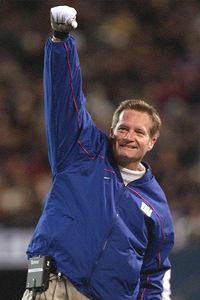 At one point in time, Jim Fassel wrote a letter to Al Davis expressing interest in being the head coach of the Oakland Raiders. Ultimately, the Raiders stuck with Tom Cable.
Since then, Cable has kept the Raiders in contention for the a top five draft pick, punched one of his coaches in the face, and helped in the digression of the development of former first round draft pick JaMarcus Russell.
Fassel on the other hand lead the Las Vegas Locomotives to an improbable win in the UFL's inaugural championship game; arguably the most underrated football game of 2009. During the season and into the championship game, Fassel helped develop another former first round draft pick, J.P Losman. In the inaugural UFL season, Losman completed 62.1% of his passes for 1,386 yards, 9 touchdowns, and two interceptions.
Losman's development also earned him a one year contract with the Raiders. With Tom Cable heading out the door, and JaMarcus Russell certainly looking like a bust, one has to wonder whether or not the Losman signing opens the door for Al Davis accepting Jim Fassel's request to coach the Raiders.
Though his stint as Ravens offensive coordinator was atrocious, Fassel still has a pretty good resume as a head coach, and he helped Kerry Collins, a first round QB considered by many to be a bust when he signed with the Giants in 1999, develop into a star NFL QB. Now that Fassel has helped revitalize the career by winning a championship in the UFL and revitalizing the career of J.P Losman, one has to wonder whether or not he's earned the chance to help bring the Raiders back.
Let's face it, no top tier coaches are going to take this job, and a lot of prized coordinators will likely wait out the market rather than take on the "suicide" job of coaching the Raiders. Fassel works well with veterans, and who knows, maybe he can turn JaMarcus Russell into something other than the laughing stock of the NFL.
I don't think it's a long shot, I think this signing is the first step in bringing Jim Fassel to the Oakland Raiders for the 2010 season.