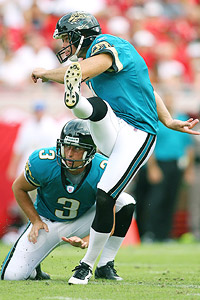 The league is starting to filter out. Nine weeks in and there are only 19 teams realistically competing for playoff positions. Chances are by this time next week that number will be 16. That's when things get interesting.


The Elite
01. New Orleans Saints -
The best team in the NFL. They only have about four games that will even be close. They'll be in the NFC Championship game... at least.
02. Indianapolis Colts -
They barely got by Houston but you can't read too much into it, those games haven't been easy since 2005. Speaking of 2005, the Colts are 4-1 against the Patriots since then, if they make it 5-1 then the road to the Super Bowl goes through Indianapolis.
03. Pittsburgh Steelers -
They're the #3 team by record alone. There's no doubt that this team more than any other in the league can beat any team in the league at will.
04. Minnesota Vikings -
The bye week really helped the Vikings out as much as a bye week ever could. Every team in their division lost, essentially giving the Vikings a 4 game lead in their division. It's just a matter of seeding for this team.
05. New England Patriots -
They got their most impressive win of the season this past week, but if they get a win this week it may be their most impressive regular season win of the decade. They'll absolutely need this game if they want a first round bye, and they'll absolutely need a first round bye to make it to the Super Bowl.

06. Dallas Cowboys -
Back in the elite for the first time in over a year and they deserve it. When there are little expectations surrounding this team they always do well; For Romo & Co.'s sake let's hope the media circus stays in New Orleans.

The Very Good

07. Denver Broncos -
They've fallen out of the leagues elite and they're in danger of being the
AFC's Giants. The difference is the Broncos resume before their bye week was a lot more impressive. As it stands, the Broncos are still the 2 seed in the AFC, but they have to win this week at Washington to stay in the hunt.
08. Cincinnati Bengals -
In the beginning of the season I had them in the playoffs. I'm not going to brag or anything, but... yeah, I got that one right. (I also predicted the Saints would be 6-10... let's just call it a wash).

09. Philadelphia Eagles -
Losing at home the way they lost to Dallas could destroy a teams season; not the Eagles though. They'll be looking to make up for the Oakland loss this weekend in San Diego. A win and they're set for January.
10. Arizona Cardinals -
This team has become a hallmark of inconsistency, but they'll be in the playoffs, again. And they'll be the team no one wants to see, again.
11. San Diego Chargers -
It's hard not to write these guys off every year when they start so poorly. Should we write them down for a playoff run that includes beating Indianapolis and losing to New England or Pittsburgh?

12. Atlanta Falcons -
I no longer think these guys are Super Bowl contenders, but there's a great chance they'll be in the final 12 this winter.

Hanging in There

13. New York Jets -
The bye week did the Jets a huge favor; with Miami, Houston, and Baltimore all losing the Jets moved right back into the pack. They have Jacksonville this week and a great chance to get back over .500.

14. Baltimore Ravens -
Realistically they should be further down this list because their season is pretty much done; but they're just too talented to discount at this point. They should beat the Browns this week, and it's not totally off base to think they can win at home against the Colts, who will be coming off of a season defining game with New England.
15. Houston Texans -
The Texans blew it. This was their chance to do something great for the first time since their first game as a franchise when they beat the Cowboys. A win on the road at Indy would've guaranteed this team a spot in the tournament in November. Now they're back to competing with the Ravens, Jets and Chargers (or whoever takes 2nd in the AFC west) for the 6th spot.
16. New York Giants -
At 5-4 they're now in a race for a low seed in the NFC playoffs; with the way they've been playing lately if they get there it'll be a gift.
17. Miami Dolphins -
They're still the most talented under .500 team in the league, but now I've been saying that for seven weeks. The schedule turns soft now, and in three weeks they should be at or one game above .500.

18. Green Bay Packers -
When will Mike McCarthy and Ted Thompson be fired? No one mentions this teams drop off since 2007, but it has been awful. A loss this week against Dallas and they'll be minced meat.
19. Chicago Bears -
It's hard to have any faith in this team right now. They've lost to every respectable team on their schedule, yet somehow beat the Steelers. The win against the Steelers is the only reason that this team is still on the radar.
The Dead
20. Jacksonville Jaguars -
You gotta hand it to the Jaguars, they've done a good job in winning every game they should win. Their next three are winnable but they'll likely go 1-2.
21. Seattle Seahawks -
If they win this week at Arizona then there's an outside chance that they get to .500 on the season; if they get to .500 on the season there's an outside chance that they make the playoffs. Translation: there's an inside chance this team is dead.
22. Tennessee Titans
- Mr. Fisher, was Kerry Collins really the best option at quarterback?
23. Carolina Panthers -
If only they had beaten the Saints they'd probably make a push towards January, instead the only thing they'll be doing in January is looking for a new head coach.
24. San Francisco 49ers -
They're dead. Who cares if they beat the Cardinals again, they won't win enough games to get to .500.

25. Buffalo Bills -
There isn't much to say about this team anymore besides they need to totally revamp. Some pieces are still in place but for the most part they're way off.

26. Kansas City Chiefs -
They cut Larry Johnson for using homophobic slurs and rumor has it he may sign with the Patriots later this week. If that happens is there any chance that Matt Cassell lets a few three-lettered words beginning with "f" spill out of his mouth in his next media session in order to end up holding kicks for Stephen Gostkowski again?

27. Oakland Raiders -
This week at home against the Chiefs is an important game for the franchise. They need to use this contest as a barometer for just how far off JaMarcus Russell is. If he is awful against the Chiefs then it's time to part.
28. Washington Redskins -
On paper this team is 5-3 and in good shape to make a playoff run. In real life they're lucky if they go 4-12 in 2009.

29. Tampa Bay Buccanneers -
The Bucs looked like the 2002 Bucs on Sunday. Like Sanchez and Stafford, Freeman will come down to earth; but not since Trent Dilfer in 1994 has this franchise had a young, talented QB to look forward to developing.
30. St. Louis Rams -
Rumor has it the Rams enjoyed their bye week. Probably because they play the Saints this week.
31. Cleveland Browns -
Aren't you sick of this team? Mangini needs to pull a Fisher and put Quinn in. There's no way Quinn is as bad as Anderson at this point.

32. Detroit Lions -
After one win we all got a little greedy and started talking about maybe two or three wins for this team. It looks like those may not come until next year.