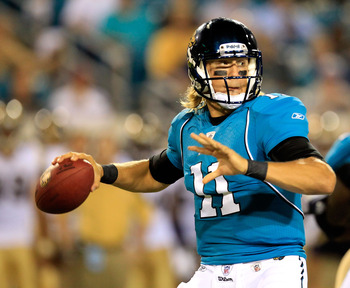 On Sunday the Jaguars got destroyed by the Jets in part because of Luke McCown's four interceptions. I say "in part" because any football fan could tell you that the Jets are just much better than the Jaguars. The more interesting thing about the game was that Jack Del Rio didn't hesitate to throw rookie first round quarterback Blaine Gabbert into the fire once McCown threw his fourth interception. Now it's in Del Rio, Gabbert, and the Jaguars' best interest to keep Gabbert on the field for the duration of the season.
Normally I am a proponent of letting a quarterback sit for at least the first half of his rookie season. This formula of watching for a while helped quarterbacks like Donovan McNabb, Daunte Culpepper, Chad Pennington, Carson Palmer, and even Eli Manning get adjusted to the speed of the NFL, the players they're surrounded with, and the rulebook (didn't work too well for McNabb though, maybe he should've waited). But then Ben Roethlisberger went 13-0 as a 22 year old, and since then the patience for quarterback development has waned to the point where Tim Tebow not starting week one in his second year means he is officially a bust in some pundits eyes. Matt Ryan, Joe Flacco, Mark Sanchez, Sam Bradford, and even Vince Young have validated the Roethlisbergerian (Rahth-Liss-Burr-Gare-E-an) technique of quarterback upbringing.
Right now, Gabbert's fellow rookies Andy Dalton and Cam Newton are doing just fine starting on teams far worse off than Gabbert's Jaguars are, and starting a rookie no longer means abandoning playoff hopes, yet another result of Roethlisberger's iconic 2004 season. If the Jaguars don't want 2011 to be a wasted year they'll let Blaine Gabbert take every snap from here until their season is officially over. This will not only let Gabbert experience the growing pains that have helped quarterbacks like Josh Freeman and Colt McCoy get more comfortable in their second seasons than they were as rookies, but it will also give the Jaguars their best chance of winning the AFC South in 2011.