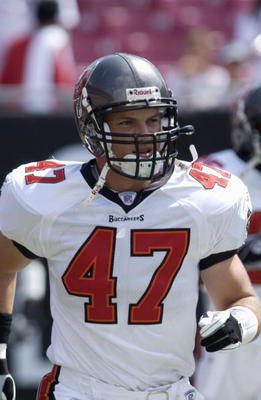 Last week I created a lot of buzz and debate when I released who I
projected
to be on the All Decade team.
The All Decade team is voted on by the same committee that votes for the Hall of Fame. Overall our two teams are similar, but I honestly think mine was better.
Before I explain let me introduce you to the NFL's "official" All Decade Team (players listed in alphabetical order):
Quarterback
- Tom Brady, Peyton Manning.
Running Backs
- Shaun Alexander, Jamal Lewis, Edgerrin James, LaDainian Tomlinson.
Offensive Tackles
- Walter Jones, Jonathan Ogden, Orlando Pace, William Roaf.
Guards
- Larry Allen, Alan Faneca, Steve Hutchinson, Will Shields.
Fullback
- Lorenzo Neal.
Tight Ends
- Antonio Gates, Tony Gonzalez.
Wide Receivers
- Marvin Harrison, Torry Holt, Randy Moss, Terrell Owens.
Centers
- Olin Kreutz, Kevin Mawae.
Head Coaches
- Bill Belichick, Tony Dungy.
Defensive Tackles
- La'Roi Glover, Warren Sapp, Richard Seymour, Kevin Williams.
Defensive Ends
- Dwight Freeney, Julius Peppers, Michael Strahan, Jason Taylor.
Linebackers
- Derrick Brooks, Ray Lewis, Joey Porter, Zach Thomas, Brian Urlacher, DeMarcus Ware.
Cornerbacks
- Ronde Barber, Champ Bailey, Ty Law, Charles Woodson.
Safeties
- Brian Dawkins, Troy Polamalu, Ed Reed, Darren Sharper.
Punters
- Shane Lechler, Brian Moorman.
Kickers
- David Akers, Adam Vinatieri.
Punt Returners
- Dante Hall, Devin Hester.
Kick Returners
- Joshua Cribbs, Dante Hall.
Now here is the Funk Football All Decade Team:
WR
Terrell Owens
WR
Marvin Harrison
WR
Larry Fitzgerald
TE
Tony Gonzalez
TE
Antonio Gates
T
Jonathan Ogden
T
Walter Jones
T
Orlando Pace
T
Chris Samuels
G
Steve Hutchinson
G
Will Shields
G
Larry Allen
G
Alan Faneca
C
Kevin Mawae
C
Olin Kreutz
QB
Peyton Manning
QB
Tom Brady
RB
LaDainian Tomlinson
RB
Shaun Alexander
RB
Marshall Faulk
RB
Adrian Peterson
FB
Lorenzo Neal
DE
Michael Strahan
DE
Julius Peppers
DE
Jason Taylor
DE
Dwight Freeney
DT
Shaun Rogers
DT
Warren Sapp
DT
Tommie Harris
DT
Richard Seymour
LB
Ray Lewis
LB
Brian Urlacher
LB
Zach Thomas
LB
Derrick Brooks
LB
James Harrison
LB
Joey Porter
CB
Champ Bailey
CB
Ty Law
CB
Ronde Barber
CB
Charles Woodson
S
Ed Reed
S
Troy Polamalu
S
Brian Dawkins
S
John Lynch
P
Jeff Feagles
P
Craig Hentrich
K
Adam Vinatieri
K
Jeff Wilkins
PR
Devin Hester
PR
Ed Reed
KR
Dante Hall
KR
Josh Cribbs
Coach
Bill Belichick
Coach
Tony Dungy
Okay, you have had time to look at it... now let's debate.
Offensive tackle... the Hall of Fame voters selected Willie Roaf while I selected Chris Samuels. Willie Roaf was great this decade going to 5 Pro Bowls in six years. In that team he also helped Priest Holmes develop into one of the leagues premiere backs and also helped jump-start the career of Larry Johnson. More importantly, in this time span Roaf earned one All Pro first team selection. Chris Samuels on the other hand played the entire decade (besides 2009 which he missed with a neck injury) and was selected to six pro bowls. I suppose in this instance it's a wash considering Roaf was one of the best in his time span, while Samuels was simply just consistant.
The longevity versus dominance debate is what makes the All Decade team debate so great. Do I choose the guy who was the good for longer or the player who flashed brilliance but didn't have the longevity of his counterpart?
In this instance the NFL chose Willie Roaf over Chris Samuels.
At running back the NFL chose longevity over brilliance. Edgerrin James and Jamal Lewis were selected to the All Decade team over Adrian Peterson and Marshall Faulk in a debate that is easy to argue either way. From 2000 to 2002 Marshall Faulk was the undeniable best running back in the NFL, and arguably the best player in the league. From 2007 to 2009 Adrian Peterson has been the sure-fire number one back in the league, with Chris Johnson recently joinin the debate. Edge and Lewis were never the best backs in the NFL, even when they were elite.
Lewis has one Pro Bowl, one All Pro, one Super Bowl ring, but seven 1,000 yard seasons. In the ten years that filled the 00's, Lewis was probably considered a top five running back only one season, 2003 where he rushed for 2,066 yards. This decade James has zero All Pro selections, three Pro Bowls, one rushing title, and six 1,000 yard seasons. James also lead the league in rushing yards in 2000. What James doesn't have is a Super Bowl ring, something the Indianapolis Colts were able to get with Joseph Addai in 2006, the year after James left Indianapolis for Arizona.
Though James and Lewis both had a lot of yards in the 00's, their consistency was never accompanied by dominance. Like Chris Samuels, James and Lewis played at a high level for a long period of time, but were considered amidst the best of the best for only a brief span.
Like Willie Roaf, Marshall Faulk and Adrian Peterson dominated for short spans of the decade but do not have the body of work that spans ten years (in this particular decade at least). In 2000 Faulk was the leagues MVP, in 2001 he got his second All Pro selection of the decade, and in 2000 and 2001 he had over 2,000 yards from scrimmage. Faulk also picked up three pro bowls in this time span. After the 2005 season, Faulk called it a career, but there was no denying that from 2000 to 2002 he was the best player in the NFL.
In 2007 Adrian Peterson burst onto the NFL scene and immediately supplanted LaDainian Tomlinson as the best running back in the league. In his short three year tenure this decade, Peterson has earned three Pro Bowls, two All Pro selections, picked up three 1,000 yard seasons, and has been received MVP votes twice. Though he has only been in the league for three years, his dominance at the running back position has been far more noticable than James or Lewis'. Oh, and in case you forgot, in his rookie season, against a then very good Chargers rush defense, Peterson broke an NFL record rushing for 296 yards on 30 carries, picking up 3 touchdowns. In that game, the eighth of his rookie campaign, Peterson pulled the plug on Tomlinson's run as the best in the league.
I'm not going to argue with the James/Lewis over Faulk/Peterson selections, but I will just point out it goes against the logic of the Roaf over Samuels decision. Unless of course Roaf's six elite years of service are more valuable than Peterson and Faulk's three.
The rest of our teams were pretty similar. Torry Holt vs Larry Fitzgerald is a wash. You can't get rid of Moss, Marvin, or T.O because they're without a doubt the three signature receivers of the era. Fitzgerald vs Holt is just a case of longevity at it's finest. This decade Fitzgerald has four dominant seasons under his belt while Holt has seven. While Fitzgerald in his four years of dominance may have been better than Holt, you cannot deny Holt the fourth spot on the roster.
My biggest grievances come on defense. The Hall of Famers and I agreed on Cornerback and Defensive End, but our disagreements at Safefy, Defensive Tackle, and Linebacker an inexcusable. Let's start with Safety.
As hard it was, I left Bob Sanders off the All Decade team in favor of Troy Polamalu, Ed Reed, Brian Dawkins, and John Lynch. Sanders' dominance in the 2006 playoffs and the 2007 regular season are enough to make him an NFL legend, perhaps more so than Dawkins and Lynch, but they're not enough for me to put him on this list over those two (potential) Hall of Famers. The Hall of Fame committee selected Darren Sharper over both Sanders and Lynch. Seriously though? I can understand Sanders, but Sharper over Lynch? That's ridiculous and I'm not even a John Lynch fan. From 2000 to 2002 Lynch was probably the best safety in the league, and from 2004 to 2007 he still earned Pro Bowl berths every year (though his last was a little suspect to fan ignorance). To be honest, Sharpers selection is just dumb despite his large amount of interceptions. What that selection showed me is that Sharpers strong 2009 canceled out Lynch's entire 2000 to 2007 (which included a stint on arguably the best unit of the decade), seriously altering the legitimacy of this list.
The selection of DeMarcus Ware over James Harrison is a wash. It really could have gone either way. They selected Ware, I selected Harrison, you have to pick your battles. Harrison has three Pro Bowls, two rings, one All Pro selection, one of the biggest plays in Super Bowl history, and the ever important defensive player of the year award. Ware has four Pro Bowls and three All Pro selections, no rings, but that's not his fault. I'll consider this one a wash, but concede the results to the Hall of Fame committee.
Defensive Tackle was just downright sloppy on their part though. Funk Football selected Shaun Rogers, Warren Sapp, Richard Seymour, and Tommie Harris; The Hall of Fame committee selected Warren Sapp, Richard Seymour, La'Roi Glover, and Kevin Williams. I'll give you Kevin Williams over Shaun Rogers, that one was a blunder on my part though Rogers is probably the better player stuck on the worse teams. That's a debate for a different day, though. Tommie Harris vs La'Roi Glover though? That one just screams of Dallas bias. I understand that Glover has more Pro Bowls in a longer span, but anyone who watches the game of football knows that Tommie Harris was just the better player. Harris was the key to a Bears defense that went to the Super Bowl in 2006, and his absence that game was part of the reason the Bears could not contain the Colts running game. Also, Harris' presence on a Bears team that did damage on NFC opponents from 2005 to 2006 is more than you could say for Glover who made two playoff appearances in his career.
Simply put, Tommie Harris belongs on this roster over La'Roi Glover. Make the change, please.
Dungy over Cowher is hard to disagree with for these purposes, though I honestly believe that Gruden was probably the second best coach of the decade. He may have a chance to be the coach of the decade for the 10's though if he lands in the right place, (cough... Dallas... cough).